Operations/Administration
Nancie Brown – Founder
Lori Jean Glass – Executive Director Clinical Operations
Nicole Walsh – Accounting
Patti Ogren – Executive Assistant/Admissions
Courtney Frei – Admissions/Marketing
Laura Petracek Ph.D, Clinical Psychologist
Rawland (Rawly) Glass MSW, LCSW
Michelle Baker MFT
Alicia Morgan CRC, CPC
AJ Ferreira CPC, Personal Trainer
Ellie Schreiner CPC
Alyssa Aubrey – Medicine Horse Ranch / Equine Therapy
Gaby Fabian – Equine Therapy and In House Care Facilitator
Terri DeLangis – In House Care Facilitator
Julie Baird – In House Care Facilitator
Deb Reid – Yoga
Pollyanna Bush – Music/Singing Therapy
Barbara Juniper – Sound Healing
Irma Maunder – Chef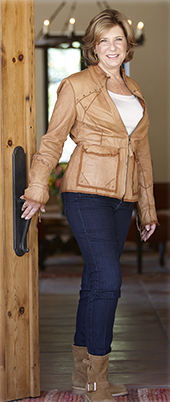 Founder Nancie Brown's Vision
The concept of Five Sisters Ranch was borne out of my healing journey and fulfills my personal dream to create a safe, healing sanctuary for women. Over 20 years ago, I decided to go to an extended care facility that changed my life. It was there that I learned how to be open minded, accepting of others and honest. There were women with love addiction, love avoidance, depression, anxiety and codependency.
My spirituality is found in nature. In determining to manifest my vision, it was paramount to find a location that was in line with my environmental values. I made the decision to build what I believe is the only LEED Platinum-certified residential care facility.
The name came from my being one of "Five Sisters". Recognizing the strength, power and support that women can offer one another, Five Sisters Ranch honors my sisters, who were so instrumental in my recovery journey. And, with only having 6 residents at a time, the women in treatment receive "Five Sisters."
I extend an invitation to any woman seeking to change her life in a positive way.